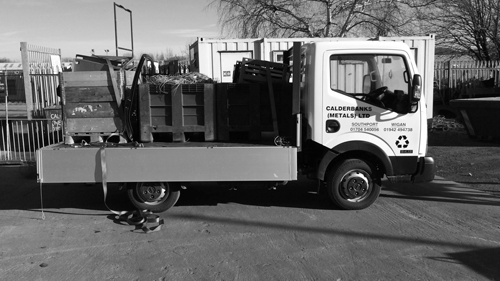 Use a Registered Company for Scrap Collection in Blackrod for your Business
Clear out your property with a timely scrap collection in Blackrod. If you have large amount of metal products that you are not going to need, you can easily get them scrapped, not to mention receiving payment for them too. At Calderbanks Metals Ltd, we specialise in metal collection and recycling, and depending on the amount of metals that your business produces, we will be happy to work with you to provide the best cost-effective solutions. By scrapping useless metal, you will also be helping the environment and cutting down the need for mining and depleting the world of its natural resources.
We will pay for all types of metals, whether they are ferrous or non-ferrous. In Blackrod, scrap collection can be scheduled by getting in touch with our staff members who will arrange a time, as well as provide you with the day's rates. We are licensed and approved recyclers, and if you are interested to visit the facilities, we will be happy to take you around. In addition to that, we also provide skips on hire. In other words, we will leave the containers at your location to be filled at your convenience, and once they are filled, we will pick it up. Our potential clients will be pleased to know that we are fully able to provide a personalised service, and if required, we can customise our services to their varying needs. We would also like to highlight that our scrap collection service is free of all charges, and whether it's a defunct car by the side of the road or it's products filled with metal, don't hesitate to get in touch with us and we will set up a meet for a scrap collection.
For an efficient and professional scrap collection in Blackrod, you will not find better than Calderbanks Metals Ltd. We have been in the business for generations, and we are proud to offer an excellent range of comprehensive and effective solutions. For more details about our scrap metal collection, or to request a quote, contact Calderbanks Metals Ltd. We also offer a warehouse and factory clearing service for large companies.