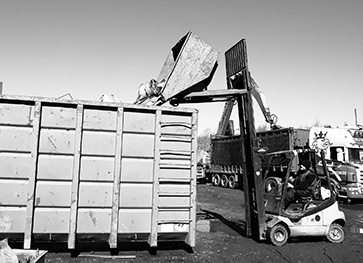 Scrap Metal Skip Hire in Wigan
Would you recycle your scrap metal with a scrap metal skip hire in Wigan?  We at Calderbank Metals have found that busy companies appreciate the convenience of a skip because we set it and pick up at no charge. You may have a lot of scrap metal and need regularly scheduled pick up. Or maybe you just do an occasional clear out in which case we would do a one off drop and pick up for you. We pay the going rate for your scrap metal which fluctuates with market demand. So, you might want to hold your scrap and schedule a pick up when prices peak. It's your scrap and your money so don't throw it away or let it walk off your property without your knowledge.
We know businesses like yours have choices regarding what companies you do business with and that includes scrap metal recyclers. That's why in Wigan, scrap metal skip hire from Calderbank Metals is free of charge to you. Part of our customer service is making your job easier. In addition, we assume you want a reputable scrap metal dealer. Our family owned business fills that requirement. We've been in business since 1896 so you know we have staying power. Ours is a licenced waste carrier business approved by council and environmental agencies. That means our site is open to any individual who wants to bring scrap metal to our facility.
In addition to scrap metal skip hire in Wigan, our company is equipped to collect large quantities of scrap metal from demolition sites. Our policy is simply to offer the best customer service and convenience and pay the best price possible. That business plan has worked very well for us and our customers seem pleased with our service. Contact Calderbank Metals Ltd and see if we're not the best choice to handle your scrap metal recycling. Our skips are available in all sizes and our pick up schedule is designed to suit the customer. You can depend on us to fulfil our contracts as agreed at the best possible price.