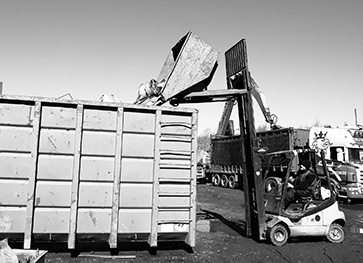 Scrap Metal Skip Hire in Southport
If you need scrap metal skip hire in Southport, we offer a comprehensive skip hire service to take care of your scrap collection requirements. Skip hire is an excellent solution if you're renovating your home and need a way to recycle or dispose many parts of the dwelling. There are usually a large amount of scrap metal items that can be disposed. These include the central heating system, old refrigerators, steel beams, among others. Skip hire also make sense for your business. It is an effective and convenient way to store all the unwanted scrap pieces of metal. It is also suitable if you want to reduce your carbon footprint. Simply dump everything into your skip and we'll take care of the rest!
If you're a company in Southport, scrap metal skip hire is just a phone call away. We'd be happy to provide you with a flexible skip hire plan so that you can clear out your factory or warehouse. Our services are suitable for both domestic and commercial clients including engineering and manufacturing firms. The process begins with a phone call to our company. Simply indicate how much scrap metal needs to be removed and we'll provide a free estimate for the metal that will be scrapped. Our company will complete a same-day BACS transfer of all the scrap metal collected from your premises. Calderbank Metals Ltd is a proud, fourth generation company. We began our services in 1896 and have continued to grow. Currently, we are being managed by fifth generation family members! Our company is licensed by an environment agency and is council approved. This enables customers to visit our location and recycle their metals easily.
If your factory needs to clear out a lot of scrap junk, consider a scrap metal skip hire in Southport. Contact Calderbanks Metals Ltd today to find how using our services can benefit your company. We offer some of the best prices in the industry for both industrial and commercial clients. Our services are both professional and personal so you're always getting the best customer service from us.