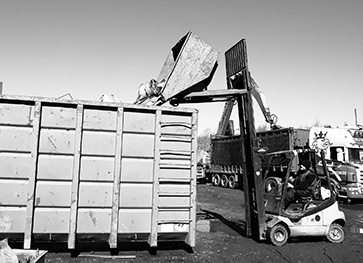 Scrap Metal Skip Hire in Shevington, Easy, Convenient and Safe
Have you thought of making use of scrap metal skip hire in Shevington for your company's scrap metal offcuts? Instead of dumping these scrap metal offcuts in a designated corner of your property, use a scrap metal skip. By doing so, you will ensure the safety of your workers, and you will have a neater property. If you are interested in hiring a scrap metal skip, give us a ring for more details. We are a fully registered and authorised scrap metal merchant offering a range of scrap metal services. Our services include scrap metal recycling, as well as the hire of scrap metal skips.
For your company in Shevington, scrap metal skip hire is the first step in doing your bit for the environment. When scrap metal is recycled, valuable natural resources and raw materials are conserved. By collecting all the scrap metal that your business generates in one handy container, will make it easier for you to dispose of it. When you hire a scrap metal skip from us, we will deliver the skip to your property, free of charge. When your skip is full, give us a ring and we will collect the scrap metal from you. The best part is that we will pay you for your scrap metal. We accept all types of scrap metal, both ferrous and non ferrous. You'll find that the scrap metal that you would consider disposing of can bring in a substantial amount of money for your business.
Scrap metal skip hire in Shevington is an excellent way of keeping your workplace neat, tidy and safe. When all the scrap metal is placed in its own designated container, no one is likely to injure themselves with metal offcuts. If you would like to find out more about our scrap metal skip hire services, contact Calderbanks Metals today. Our prices are cost-effective and professional. Hire a scrap metal skip and ensure your workplace is safe and neat, and make a little extra with your scrap metal offcuts. We have many years of experience as scrap metal merchants and are available to assist you with your scrap metal recycling.