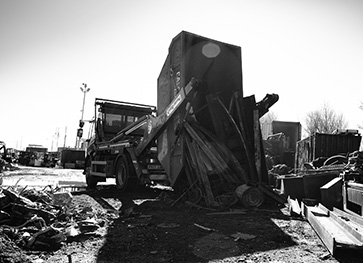 Scrap Metal Skip Hire in Leigh
A scrap metal skip hire in Leigh will ensure that your business premises stays neat and safe. If yours is a business that produces a substantial amount of offcut scrap metal, it is likely that these offcuts are merely piled in a certain section of the property. After a while, this area can become both unsightly and unsafe. By hiring a scrap metal skip, you will be able to gather all the scrap metal in a designated area, ensuring your workers are safe from accidents as well as keeping the work yard tidy. Scrap metal, while it seems that they are offcuts and therefore wastage, can bring in a tidy sum of money. By selling your scrap metal to a registered scrap metal dealer for recycling, not only are you doing your bit for the environment, but your company will also benefit from the sale of the scrap.
For any sized business in Leigh, scrap metal skip hire is a convenient and cost-effective option to storing offcuts and scrap waste. As a registered scrap metal dealer of long standing, we offer a range of scrap metal services. This includes an affordable scrap metal skip hire. We know that not every business has the same needs, and we are more than happy to tailor our services to you requirements. Our scrap metal collection service is free, and when we collect your scrap metal, it will be weighed, sorted and priced so that you receive the best return for your scrap waste. We are both council approved and licensed by the environment agency. This means that our customers can visit our site to recycle their scrap metal efficiently. On the other hand, for our customers who make use of our collection service, it gives them peace of mind knowing that their scrap metal is responsibly and ethically recycled.
Scrap metal skip hire in Leigh will provide your company with many benefits. We have different sized skips to suit your business' needs. When your scrap metal skip is full, all you need to do is give us a ring and we will arrange for a collection at a time that is convenient to you. For more information about scrap metal skip hire, contact Calderbank Metals Ltd. We are committed to providing the best possible service for all our customers.