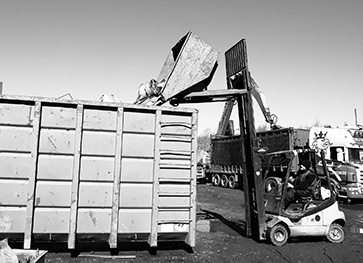 Scrap Metal Skip Hire in Horwich
Our scrap metal skip hire in Horwich is a labour and money saving device.  It is so easy to just toss little bits of scrap into the rubbish but it adds up and can become, over time, money you are throwing away.  Having a skip on site encourages the staff to properly dispose of extraneous bits of metal. Many different types of metal can be thrown into one skip.  This will later be sorted at the scrap merchant yard and you will be paid for the weight of the different metals. Not only does this keep the factory clean and neat but it also is necessary for health and safety regulations.
When your manufacturing process produces a large quantity of off cut metal in Horwich, scrap metal skip hire will save you time and money and you will be reducing your carbon footprint by recycling some of the waste created by your business. These days this is an important and financially clever thing to do.  The skips are collected when full or if you have a regular amount of scrap the skip can be collected on a regular basis. It is entirely up to you to decide what suits your company. The scrap is then taken to the scrap yard where the metal is sorted into different metals. This is weighed and you are paid according to the weight of the various metals.
We offer one of the best services in scrap metal skip hire in Horwich and surrounding areas. Contact Calderbank Metals Ltd today and we will arrange to deliver one of our skips to your factory or workshop yard. We can boast of over 40 years of experience in the industry with two branches in Wigan and Southport for the convenience of our customers. Our collection service will also pick up any size load for free. We want to encourage everyone to recycle waste metal as it is usable and can bring in some extra money for the business. Scrap metal prices rise and fall daily so it may pay to check the day's price before requesting collection of your skip.