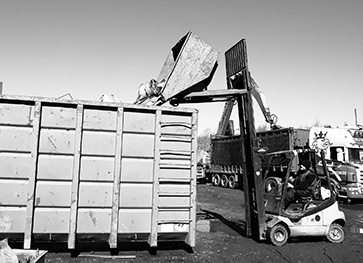 Scrap Metal Skip Hire in Horwich
Our scrap metal skip hire in Horwich is efficient and fast. If you are a client with a regular need for skips for your business' metal scrap,  don't hesitate to get in touch with our family business, Calderbanks Metals Ltd. We have been in this field for many years, and have a state-of-the-art recycling facility. If your business produces a lot of metal by-products, we will be happy to take them off your hands at very competitive prices. Instead of throwing metal items away, and filling up landfills, you can easily make some quick cash with all types of ferrous and non-ferrous metals.
The earth can only produce so much metal ore, and by hiring our services, you can actually help to slow down the depletion process. In Horwich, a scrap metal skip hire is a smart way to increase your cash flow and keep your business fruitful. We are a trusted business with more than 40 years in the field, and we offer a comprehensive service. Whether it's a scrap metal skip hire or a scrap car collection service, you are more than welcome to get in touch with us for more information. Rest assured, we will be happy to tailor our services to your exact needs. Hiring a skip is easy, we will place a skip of the required capacity in place, and once it's filled, just let us know and we will pick it up. If you need regular pick-ups, we will be glad to assist you, Our collection service is quick and efficient. Our skips are also perfect for warehouse clearances, engineering firms and large factories that may produce ferrous and non-ferrous wastes.
We have a large range of skips for hire, and we are able to offer our clients best prices when they contact us for cheap scrap metal skip hire in Horwich. We are council approved as well as licensed by the environment agency. If you are looking for a company to provide you with excellent services, give us a ring. We pay our clients instantly, and our scrap metal collection is free.