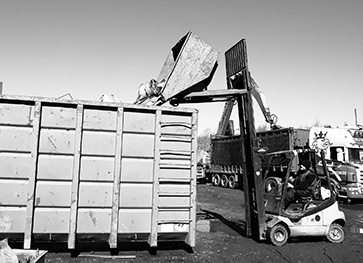 Scrap Metal Skip Hire in Hindley
For scrap metal skip hire in Hindley, work with professionals who are experts in the field. Calderbank Metals Ltd is a family business that has been in the industry for more than 100 years, commencing its work in 1896. Currently in its 5th generation of management, we aim to continue keeping the high standards of work and service provision that has made the business successful over the years. We provide commercial and industrial services, tailoring them to your needs. We work with both ferrous and non-ferrous metals alike, including steel and copper, offering the best prices in the market. We are committed to providing excellent services to both our new and existing customers.
Metal is a common material that exists everywhere, including our households. In Hindley, scrap metal skip hire makes the process of disposing of your scrap easier. Collecting them in one place and handing it over to the relevant professionals keeps both you and the environment safe. Discarding metal irresponsibly exposes everyone to dangers, even if not directly. When metals break down and decay, the resultant products can seep into water systems, making the water dangerous to use. Industries and commercial businesses need to be especially careful about how they discard their scrap metal since their actions create the biggest impact. This is where we come in. We are metal merchants that work closely with you in order to clear your warehouse or factory. Our client list spans from manufacturing businesses to engineering firms throughout the Lancashire area. We take the headache of how to dispose of the metal away so you can focus on your business.
Making use of scrap metal skip hire in Hindley also enhances the business partnership. With reasonable prices and an arrangement of an estimation provided before any service is carried out, you can plan accordingly. If you need these services, do not hesitate to contact Calderbank Metals Ltd. We are both council approved licensed by the environment agency, allowing customers to come visit our site in order to recycle their scrap metal efficiently. We also offer scrap metal recycling services.