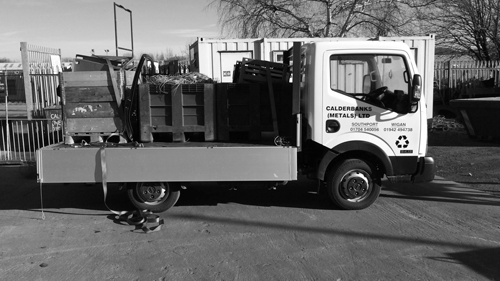 Scrap Collection in Standish
Try our scrap collection in Standish and save space and money. Scrap metal is an unavoidable waste in many industries. From worn-out machines and machine parts to useless metallic by-products, scrap metal takes a huge chunk of industrial output. Unfortunately, the scrap accrues huge disposal costs and takes up useful space. At Calderbank Metals Ltd, we take the scrap off your hands and out of your property. What might be a heap of trash to you, is a gold mine to us and we share our gold. We buy scrap metal at competitive prices offering a waste disposal solution that makes you money.
The scrap metals industry is a multi-billion sector with numerous stakeholders. If you are an industry in Standish, scrap collection allows you to enjoy a piece of the pie. With Calderbank Metals Ltd as your scrap dealer, you will get the most from your scrap. We hold an enviable reputation of offering the best scrap metal services. Established in 1896 as a family run business, we have refined our services and established our name as a leading company in the scrap metal industry. The client reviews reflect our commitment to meet the client's needs and offer friendly, affordable services. Our collection services are timely and set to the convenience of the client. Whether you want us to take frequent appointments or make a collection on short notice, we can get it done.
When it comes to scrap collection in Standish, Calderbank Metals Ltd is your trusted service provider. As a licensed scrap metal merchant, we aim for the highest professional standards on our service delivery Scrap metal can be recycled or reused. However, the separation of the different types of scrap is important. Both ferrous and non-ferrous scrap metals have unique applications. We will sort out your heap of scrap metal and fetch the best market price for both your ferrous and non-ferrous metals. Contact us today and turn your scrap into profit. Do not simply throw away your scrap metal, let us handle them as you handle your business.