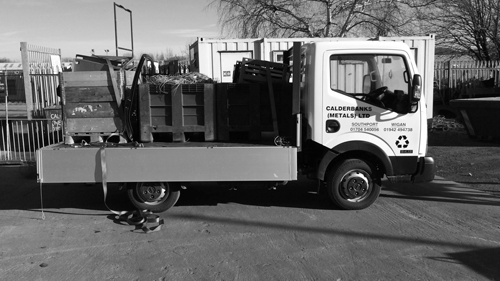 Scrap Collection in Standish – Keep Your Work Space Safe and Neat
A scrap collection in Standish saves you time and effort. A number of businesses generate large amounts of scrap metal pieces. Storing and disposing of them can be a challenge. The work area can look untidy what with piles of scrap metal. Additionally, it can be unsafe for your employees. Ideally, the scrap metal pieces should be taken from the premises as soon as possible. One way to ensure that your work premises are neat and safe is to hire a scrap metal skip. All the scrap metal pieces that will not be used can be safely stored in the skip, out of harm's way. One huge benefit of hiring a scrap metal skip is that the metal scrap can be collected when the skip is full.
The first step is to hire a scrap metal skip. In Standish, a scrap collection is then arranged when the scrap metal skip is full. We're happy to collect any size load and as often as you like. If you do not have a scrap metal skip, but do have scrap metal, we'll gladly collect it from you. Perhaps it is a once off collection as you are clearing out your storage space? Our expert team can collect the scrap metal from you at your convenience. We have the right vehicles of different sizes to collect your scrap metal. On top of that, our collection service is free of charge. We're happy to accept all types of scrap metal pieces, including copper, lead and brass. In addition, we'll accept stainless steel and aluminium.
Our scrap collection in Standish includes payment for your scrap metal pieces. We can offer the best prices for your scrap metal pieces. Our payment to you is immediate. Furthermore, we have council approval and registration from the environment agency. As such, you can have peace of mind that we'll recycle all your scrap metal pieces in a responsible and ethical manner. For more details about our scrap collection service, contact Calderbanks Metals today. As such, our knowledgeable and friendly team are available to assist you with any of your queries.