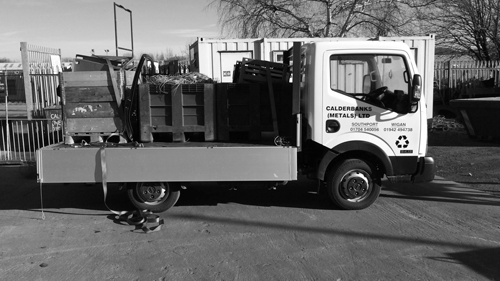 Scrap Collection in Standish, Convenient, Time-Saving and Professional
Do your part in helping the environment and arrange a scrap collection in Standish for recycling. We are happy to pay you for your scrap metal. This is an added bonus to responsibly disposing of your scrap metal pieces. We accept both ferrous and non-ferrous metals. If your business generates large quantities of scrap metal pieces, a good way to collect it for recycling is to place it in a skip. We offer a range of scrap metal skips for hire. Choose the one that best suits your requirements. Once it is full, we will arrange for the collection of the scrap metal. Speak to our team about your business' specific needs on scrap metal recycling.
We are happy to arrange, in Standish, a scrap collection time that is most convenient to you. Let us know what your specific requirements are and we can arrange to deliver the skip to your property. By using a scrap metal skip on your business property, you are playing your role in lessening your carbon footprint. The added bonus is that you will receive monetary payment for the scrap that is deemed no longer useful for your business. The collection of your scrap metal by our expert team is free of charge. As we are a well and long-established scrap metal merchant, you can rest assured that your scrap metal will be ethically and responsibly recycled. Recycling metal helps minimise the mining of iron ore.
Let us arrange a scrap collection in Standish of all your business' scrap metal offcuts. Contact Calderbank Metals Ltd today to arrange your scrap metal collection. Our family-owned business was first established over a hundred years ago in 1896. We are both council approved and licensed by the environment agency to allow customers to deliver their scrap metal to our site for recycling. We have two branches, one in Wigan and one in Southport for the convenience of our customers. All types of scrap metal are suitable for collection. These include scrap copper, scrap lead, scrap brass, aluminium and stainless steel scrap. Let us help you in your effort for a cleaner world.