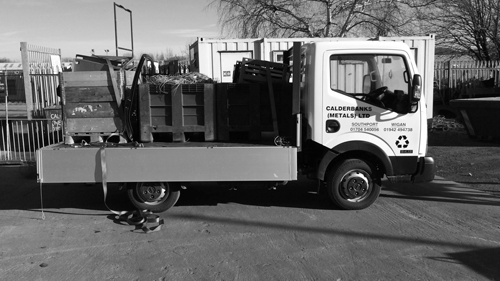 Scrap Collection in Orrell
Ensure top-quality scrap collection in Orrell to turn your trash into usable funds. At Calderbank Metals Ltd, we partner domestic and commercial customers in ensuring that you get the best prices for a range of unwanted metals. We are a council approved and licensed company that is authorised by the Environment Agency to collect and recycle a variety of scrap metals, in compliance with all the current UK health and safety regulations. These include copper, lead, brass, brass wire, aluminium and stainless steel. If you'd like to avail of our skip hire services in the Lancashire area to clear a factory or warehouse, we provide these at very competitive rates. Our highly trained, experienced team can give you a detailed, free assessment of the available scrap so that you can make an informed choice.
Our company is proud to be known as an ethical and honest one, because we ensure that we stay in compliance with all the rules and regulations. In Orrell, scrap collection services from our company use the latest technology to assess, sort, weigh and process scrap. Selecting a reliable, trustworthy and ethical scrap metal dealer or service can be quite challenging. This industry forms a vital part of the British economy and this is understandable, because a large part the world's iron and steel are produced in this country. Nearly half the metals produced in the UK are made from recycled material and that's why the process is so vital. The scrap metal industry has undergone huge changes over time. Currently, the 2013 Scrap Metal Dealers Act regulates the industry and provides more protection to consumers. All scrap metal dealers have to obtain a metal dealer's license from their local council authorities and only electronic or cheque payments are permitted.
For a professional and efficient scrap collection in Orrell, speak to the professionals. For more details about our scrap collection service, contact us today. It is prudent to pre-sort the different metals and items as much as possible. You may also find multiple metals in a single item. This makes evaluation easier and swifter, since different metals have different rates. If there are items that you're not sure about, our experts can help identify and assess them.