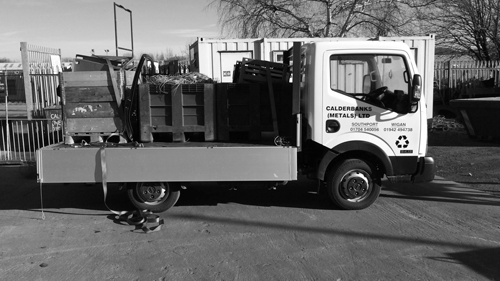 Reliable and Efficient Scrap Collection in Orrell by an Expert Team
Almost every type of metal is recyclable, and if you are interested in scrap collection in Orrell, Calderbanks Metals Ltd can be of help. As a company that has been offering its services for many years, we are committed to providing the best services and rates to our clients. We work both with commercial and domestic clients, and depending on your needs, we will offer tailored solutions to fit your requirements. Whether you have an old car that needs to be scrapped, or you have a large amount of metal products or by-products, we will be glad to take them off your hands.
We offer a free scrap collection service. In Orrell, a scrap collection by Calderbanks Metals Ltd is quick and efficient, not to mention competitive as well. Instead of throwing out metal that you no longer need, you can simply get in touch with us and we will pay a fair price to take them. Recycling does not only have economical values, but it also has environmental benefits such as fewer resources will be extracted from the earth, it will reduce wastes in landfills, it is a lot less expensive and less polluting compared to extracting and processing new metal ores. To make it easier for our clients, we also provide them with skips that they can fill, and we will collect them once they have been filled. We will buy both ferrous and non-ferrous metals, and we will not hesitate to give you top prices for them. We are licensed by the government and approved by the council to collect and recycle metal items and products. Whether you are a business requiring a full clearance service or a small client who needs a one-time collection, we are always ready to help.
For your scrap collection in Orrell, you will not regret having contacted us at Calderbanks Metals Ltd. We have been in the business for more than 40 years, and rest assured, we can handle small and very large clearances. For more details, get in touch with us. We will be pleased to provide you with any information about our services.