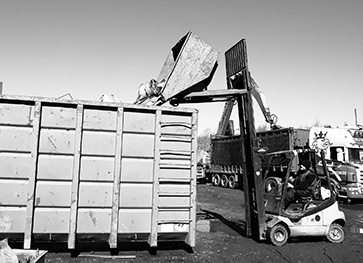 Professional and Efficient Scrap Collection in Pemberton
A scrap collection in Pemberton is convenient and efficient. If your business is in an industry that produces metalwork, it is likely that it generates large amounts of scrap metal pieces. These pieces of metal aren't likely to be re-used by your business and will need to be disposed of in a correct way. This is how we can assist. We are a registered and approved scrap metal merchant offering a range of scrap metal services to all our customers. Among our services is a convenient and efficient scrap metal collection. We're happy to collect any sized load, free of charge. What's more, we pay excellent prices for your scrap metal.
Your metalwork business can take steps to lower its carbon footprint. In Pemberton, a scrap collection will collect your business' scrap metal pieces from your premises. All you need to do is give us a ring to schedule a collection. We also offer other services relating to scrap metal. One of these is a scrap metal skip hire. If your business is likely to need regular scrap collections, it makes sense to hire a scrap metal skip. With a scrap metal skip, you will have one designated place for all your business' scrap metal pieces. This keeps your work premises tidy and safe. Best of all, when the scrap metal skip is full, all you do is give us a ring for a handy, free collection.
A scrap collection in Pemberton can be tailored to meet your business' specific needs. We have a range of different sized skips for hire. Additionally, we have a number of different sized vehicles with which to collect your scrap metal. For more details about our scrap collection services, contact Calderbanks Metals today. We're a family-owned and family-run scrap merchant, in business for many years. We've gained an enviable reputation for our excellent services, and our commitment to recycling scrap metal responsibly. We accept different types of scrap metal, including ferrous and non ferrous metal. Once the scrap metal has been collected from your premises, we process it down to size and then sell it in the UK or export it to European markets.