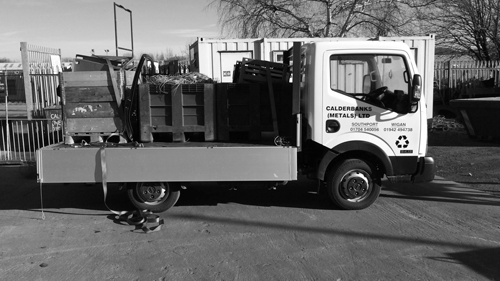 Convenient, Reliable Team for Scrap Collection in Appley Bridge
The value of scrap collection in Appley Bridge extends beyond your immediate benefits. One immediate benefit is a clean, safe workplace free of scrap metal debris. When you choose to work with Calderbank Metals, you will realise additional revenue based on the best prices paid. In addition, those benefits are yours without the need for much effort on your part. We supply the skips you need to collect scrap metal to your site and we collect it. All you have to do is see that the scrap makes it into the skip. There's no need to separate the scrap metals and we accept both ferrous and nonferrous metals. Our collection service is geared to your needs. We can arrange ongoing regularly scheduled collection or one off whenever you need it.
Each of our customers is engaged in making a tremendous contribution to the world. In Appley Bridge, scrap collection contributes greatly to the balance of UK trade and provides jobs for over 10,000 workers. The reuse of recycled scrap metal saves significant amounts of energy which helps the environment. As a company, you may see your small scrap metal accumulation as insignificant.  Yet it's those contributions that make up the whole. Each year about 10 million tonnes of scrap metal are recycled in Briton alone. So even a little makes a difference in the collective effort to utilise recycled metals. Yet, little effort is required when you contract with us at Calderbank Metals.
Calderbank Metals has been established in scrap collection in Appley Bridge for generations. We have built an enviable reputation for customer service and dependability throughout the area. Our customer relations, well maintained equipment and honest financial dealings are well known. We believe in what we do. Did you know that 75% of all the aluminium ever made is still in circulation today? Almost every new car off the assembly line today is made up of about 25% recycled steel. Contact Calderbank Metals Ltd and get paid for making your contribution to this industry valued at £5.6 billion annually. You will be helping reduce CO2 emissions by up to 99%. That's something we can all be proud of.